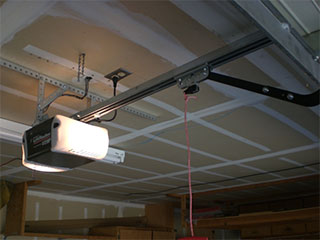 Standard residential garage door openers usually have ½ horsepower motors, yet it really depends on the door's weight. Most models are mounted on the ceiling, but there are also special wall-mounted units in case there is lack of headroom. They are activated by the wall switch and the clicker although some homeowners prefer wireless keypads instead of remotes. The most vital parts in modern electric operators are the sensors and the emergency release cord. The sensors ensure the immediate reversal of the door should anyone be underneath it while it's closing down. The cord will not only be useful during a power outage but also when someone is caught under the door and the reverse mechanism fails to work.
Working On Garage Door Openers of All Brands
The professionalism of Garage Door Repair Draper is shown by our obsession to ensure absolute safety for our customers. Garage door openers might have the right safety features today but we never fail to check what our customers get. Opener systems must all comply with the regulations of UL 325 and we confirm that. This is one more reason why our company only works with top of the line brands such as Chamberlain, Genie, Liftmaster, and the other major opener manufacturers. Big brands like these and Sears, Craftsman and Marantec produce safe openers that have been receiving great reviews and feedback from our customers, and if our customers are happy - so are we!
Professional Repairs & Installations
As experienced garage door repair technicians, the personnel of our company guarantees your satisfaction on every call. We will ensure the unit is stable and attached to a durable angle iron, all parts are tightened, the wall switch is placed high on the wall so that children never reach it, and the two sensors are installed six inches over the floor. As an emergency company, we will be with you when you face emergency problems. When the door starts malfunctioning due to electric opener problems, we promptly arrive for troubleshooting and repair.
Give our experts a call today or schedule your appointment online!
Looking for more? We also offer:
Roll up Garage Door Maintenance
Screw Drive Opener Replacement
Torsion & Extension Spring Replacement
Garage Door Off Track Repair