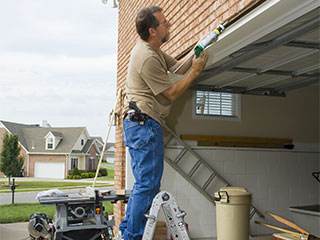 A Garage door is comprised of two main components, namely; the door itself and its opener. You can learn some easy ways to fix your garage door problems;
Four easy ways to repair a garage door
Overhead garage doors work on spring tension. A door slides on the metal tracks on garage walls, and either a single heavy spring or a number of small springs supply the power. Mostly when the door doesn't function properly, repairs are quite simple. Here are a couple of helpful door repair guidelines:
Ensure the metal tracks inside the garage are working properly. Check the spring anchor brackets that hold the tracks to the walls. In case the spring brackets are loose, tighten the bolts/rivets at the brackets. Work inside the garage with the door closed to examine the metal tracks for any loose connections, crimps, dents or flat spots. Using a rubber mullet, or with a hammer, remove out the damaged spots that can be identified on the tracks. In case the tracks are terribly damaged, replacement is recommended.
Check if there is any dirt/hardened grease stuck inside the tracks of your garage's door. You can use concentrated household cleaner to remove any dust particles/hardened grease from the metal tracks, and wipe them dry once they are cleaned.
Make sure the garage door tracks are properly aligned by checking it with a level. Horizontal metal tracks slant slightly down towards the back of your garage. While with roll-up-doors, the vertical sections of the door tracks should be perpendicular to the garage. In case the tracks are not correctly aligned, loosen the rivets/screws that hold the mounting brackets, and lightly tap the tracks into its correct position. Recheck the position of garage door tracks to ensure they are in correct position, and then tighten the rivets or screws at the garage door brackets.
Look for loose hardware, and tighten as required. On swing-up doors, check the plates where the garage door springs are mounted to ensure all screws are properly tighten. If you have roll-up doors installed in your garage, check the garage door hinge that secures the different sections of the entire door together. Replace all the damaged hinges and do check for any loose screws. At times a screw hole is enlarged; in this case replacing the screw with a longer one of the same thickness can fix the problem.
You can also use a wood filler to fill in any cracks in the wood around the door hinge. Let it dry and then you can replace the hinge.
Important: Try to avoid replacing a roll-up door having one torsion spring, placed in the center of the door. The torque in the spring is so great that the spring can injure you.
If a roll-up door has one torsion spring at the center of the door, do not try to repair it. The torque is so great that the torsion spring could get you injured.
To repair doors with this type of spring system, call our professional garage door company.